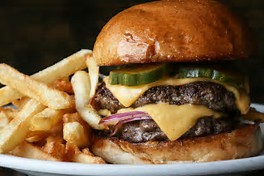 Join us for Best Burger Hagerstown.
Now in it's 3rd year, Best Burger Hagerstown has proven itself to be one of the area's most delicious events!
Best Burger Hagerstown 2017 will take place on Saturday, September 9, 2017 at the very classy Press Room at The Herald Mail (100 Summit Avenue Hagerstown MD) from 12 p.m. – 5 p.m.
During the delectable event, nine local restaurants will prepare miniature slider versions of their burger which will vie for the title of Best Burger Hagerstown 2017!
Attendees will spend the afternoon relaxing while they enjoy the jazzy, soulful, sounds of The Dirty Sweet as they feast on the various sliders prepared, on site, by their favorite local restaurants.  A plentiful assortment of sides will be available to round out the "burger buffet".  Domestic and import beers as well as an assortment of wines will be available to quench any size thirst.
A panel of local celebrity judges (see judge profiles below) will have the arduous task of sampling all the burgers and determining who will win the title of Best Burger Hagerstown 2017!  The winner be announced at 3:30 p.m.
Attendees will also have a hand in judging the burgers as donation jars at each restaurant's area will determine "The People's Choice".
COSTS:
Admission to Best Burger Hagerstown 2017 is $15. Tickets can be purchased at: https://www.eventbrite.com/e/best-burger-hagerstown-2017-tickets-32504492813
Burger sliders  – $2 ($1 of every burger will benefit CAC)
Various Side Items – $1
Domestic Beer – $4
Import Beer & Wine – $5
Additional food vendors will have items available for purchase